The CRA4 fishery extends from the Wairoa River on the east coast, southwards along the Hawkes Bay, Wairarapa and Wellington coasts, through Cook Strait and north to the Manawatu River.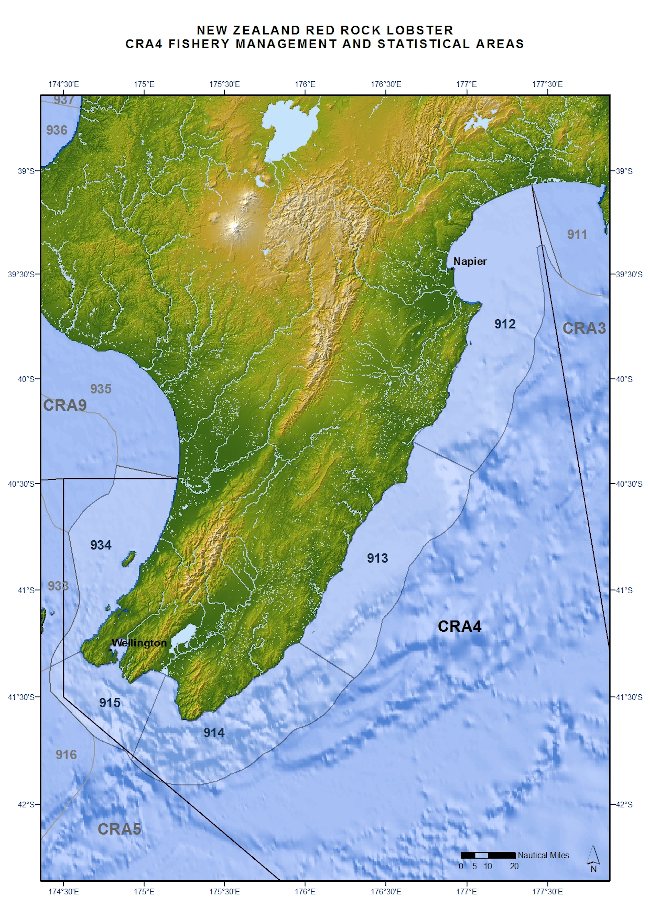 The total allowable catch (TAC) is 513.8 tonnes and the total allowable commercial catch (TACC) is set at 318.8 tonnes. In setting that TAC, 35 tonnes were allowed for customary fishing; 85 tonnes to recreational and an allowance of 75 tonnes was made for illegal unreported removals.
The current 318.8 tonnes TACC is distributed as 100 million shares amongst 94 quota share owners. There are 46 CRA4 annual catch entitlement (ACE) owners. Quota shares trade infrequently but a recent valuation is $1,400,000 per tonne equivalent. CRA4 ACE trades at $55/kg on average.
The CRA4 commercial fleet comprised 45 vessels in 2019/20. Most vessels in the fleet operate from coastal bases in isolated rural areas on the Hawkes Bay and Wairarapa coastline. The CRA4 commercial catch supports several processing and export operations in Napier, Masterton, Wellington, and Auckland. The value of the commercial catch is estimated at $28 million in 2019/20.
Potting and hand gathering are the preferred methods for amateur fishers in this area. As in most CRA areas, most of amateur catch is taken in the summer months.
Aggregate customary harvest estimates for CRA4 are not available, but the reporting requirements associated with the implementation of the North Island Customary Regulations should enable more informed decision making in future.