The CRA5 fishery extends from the western side of the Marlborough Sounds across to Cape Jackson and then southwards to Banks Peninsula. There are three distinct regions of commercial fishing:
Picton/Port Underwood
Ward-Kaikoura-Motunau
Banks Peninsula
A small number of commercial vessels also work the area from Nelson through to D'Urville Island. The bulk of the commercial catch is taken from the area bounded by Tory Channel in the north and Motunau in the south.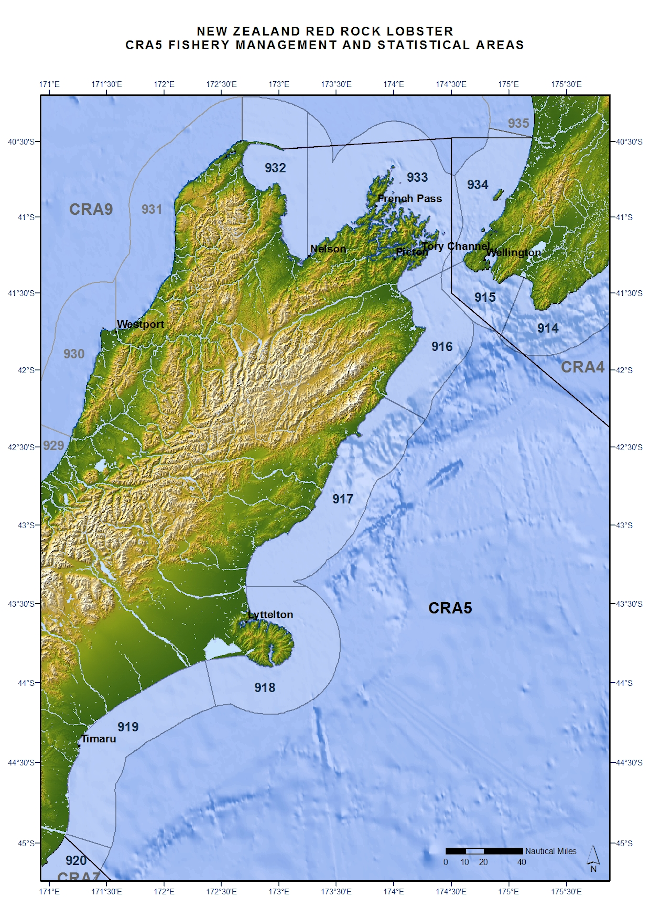 The total allowable catch (TAC) is set at 514 tonnes. 40 tonnes are allowed for amateur catch and 40 tonnes for customary catch. The total allowable commercial catch (TACC) is 350 tonnes. The allowance for illegal unreported removals is 37 tonnes.
The preferred methods for amateur fishing are potting and diving with underwater breathing apparatus. Recreational rock lobster fishing and the dive charter industry are both growing in the region.
There are 51 quota share owners in CRA5. Quota shares trade infrequently but the most recent valuation was $1,600,000 per tonne equivalent. There are 29 annual catch entitlement (ACE) owners and ACE is trading more than $50/kg.
The commercial rock lobster fleet comprised 31 vessels reporting catch in 2019/20. Many commercial vessels work off beaches between Port Underwood and Motunau. The landed value of the commercial catch is estimated at $30.5 million in 2019/20 (based on average port price paid to fishermen), and the fishery supports processing and export facilities in Kaikoura, Christchurch and Auckland.
The CRA5 industry members, through membership of their commercial stakeholder group CRAMAC 5, have encouraged and facilitated an ongoing dialogue with amateur fishing and dive clubs and with Iwi groups in the region. The responses to the process have been extremely encouraging in terms of co-operative research and management initiatives.