The region designated as CRA6 is geographically very large, being all waters within a 200 nautical mile radius of the Chatham Islands and Bounty Islands, but the area being fished is restricted to a relatively narrow coastal margin adjacent to the Chatham Islands coastline.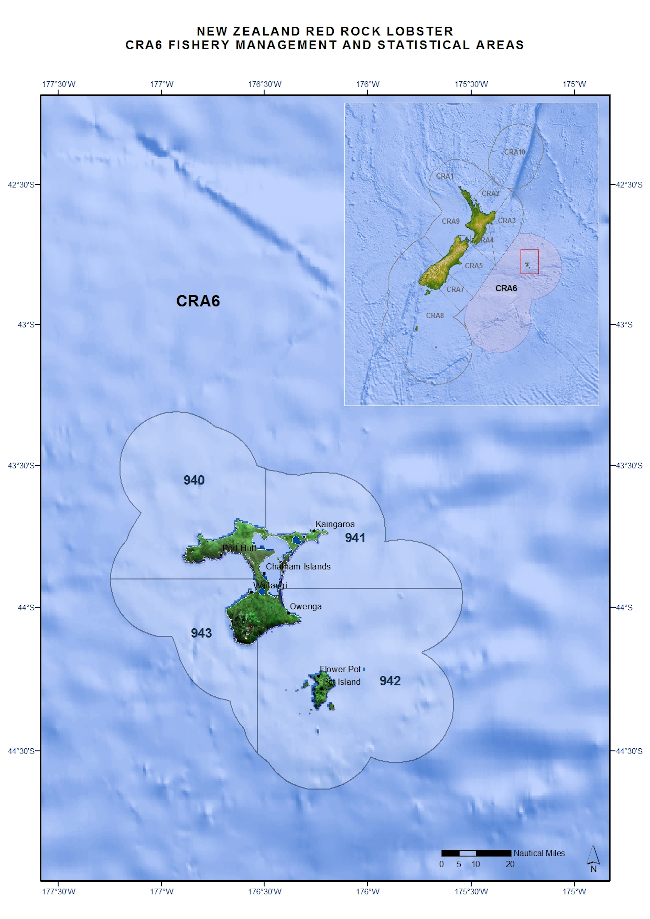 Previous Rock Lobster Fishery Assessment Working Group reports have noted that the CRA6 data are consistent with a stock model in which the biomass being fished is much smaller than the biomass of the contributing stock. The abundance of the standing stock in CRA6 is possibly more dependent on immigration of larger lobsters into the area than it is on recruitment and growth.
The most recent formal stock assessment was in 1996 (Breen & Kendrick 1998). This used alternative methods, including a depletion model and a constant-production model. Both models assumed a constant level of annual productivity is independent of the stock size and thus outside the realm of BMSY approaches.
The total allowable catch (TAC) and total allowable commercial catch (TACC) remain unchanged since April 1998. For the 1998/99 fishing year a TAC of 370 tonnes was set. A total of 6 tonnes was set aside for amateur catch and 4 tonnes was provided for customary catch. The TACC was reduced from 400 tonnes to 360 tonnes in response to Ministry of Fisheries concerns over declining landings and declining catch per unit effort (CPUE).
CRA6 is unique in that unlike all other CRA management areas, two harvest methods are allowed for commercial fishing. The bulk of the TACC is landed from vessels using pots, but there are limited numbers of method concessions issued for the fishery and divers take quantities of lobsters in the summer months.
There are 53 CRA6 quota share owners. Mainland New Zealand interests own the majority of quota shares for which the most recent trades have been in the order of $840,000/tonne equivalent. There are 46 CRA6 ACE owners and average ACE trades have been ~$50/kg in recent seasons.
There are currently 39 vessels reporting CRA6 landings and the number of divers is unknown although only 5 of the original method exemptions issued to qualifying persons between 1990 and 1993 were current during 2018/19. Additional divers operate under the authority of permits in the name of the consent holders.
The landed value of the commercial catch in 2019/20 was approximately $29 million (based on average port price paid to fishermen). The fishery supplies processing and export facilities on the Chatham Islands and in Wellington, and Auckland.
The CRA6 Industry Association (CRAMAC 6) established a Fishermen's Office at Waitangi in May 2000 and the NZ RLIC contracted an administrative officer trained by FishServe to co-ordinate the distribution and collation of Catch Effort Landing Returns and Monthly Harvest Reports for delivery to FishServe and to provide a range of additional administrative services to the Chatham Islands seafood industry.
CRAMAC 6 is managing a Vessel Logbook programme and industry-funded stock monitoring to collect growth, size frequency and abundance information.
Jordan Sansom guides viewers through a days fishing on the Chathams, where tough conditions and large lobsters can impose challanging conditions for skippers and their crew.