Stuart MacDonald began fishing in the late 1950's, on Rakiura/ Stewart Island. He eventually shifting to Riverton. During his time of commercial fishing, he was president of the Riverton Fisherman's Association. He has owned several boats over the years and has many adventures to tell. Stuart has a wealth of knowledge, which he was willing to share when we joined him for morning tea.
Dusty, like so many fishermen, started his fishing career at Rakura / Stewart Island. He is able to turn his hand to anything and make things work. Like so many in the fishing industry, he is a gentleman and hospitable to any who call on him. Dusty's memory is deep and this is only the first interview. As with Stuart MacDonald, only the surface of a very interesting life has been scratched.
Cam McCulloch
Being an accountant and part of the fishing industry for many years has given Cam valuable insight. He was involved with Riverton Fisherman's Co-op from the very beginning.
Stewart Bull
Sitting listening to Stewart Bull, brings to mind the care and thought that most fishermen put into their environment. Stewart is different, in that he started working on boats and ended up on various committees that have the marine environment at heart. His philosophy of care for the environment is what a lot of fishing families think and act upon in various ways.
Colin Topi
A born and bred fisherman, Colin has worked on numerous boats. He has experienced everything from great sadness to immense happiness throughout his career.  Sitting over a hot coffee with him on a wet day, listening to his tales was charming. Like all fishermen, he is welcoming and ready to reminisce.
John Hawkless
Proudly made and born in Bluff, John Hawkless' story started with his love of fishing. He came from a non-fishing family, but good mates and their families gave him the start he needed. John has the dual philosophy of both a fisherman and a businessman, like most fishers. His outlook is both to the future and present day fishing industry, being well aware that change can be a good thing.
Tucker
Tucker is an entrepreneur, with the drive and work ethic to make something of his ideas. His ties to the fishing industry run deep, right from the early days of his fishing career through to his current enterprise. He is softly spoken, but don't let that fool you. His is the old fashioned type of toughness- he gets in and gets the job done.
Mary Chartres, Carol Brown, Mary Leask and the late Maureen Jones have worked behind the scenes as radio operators within the CRA8 area. They are the lifeline for fishers and their families, keeping an experienced ear out for boats and crews. However, as the interviews show, they are happy to help anyone who calls them up on the radio. These ladies do an outstanding job.
Jason Haggerty is a third generation cray fisherman working along the spectacular Fiordland Coast. He focuses firmly on sustainable fishing and minimizing his environmental impact.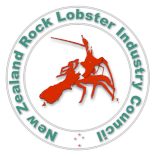 Postal address:

NZ Rock Lobster Industry Council
PO Box 947
Wellington 6305
Physical address:
NZ Rock Lobster Industry Council
Level 12
7 Waterloo Quay
Pipitea
Wellington 6011